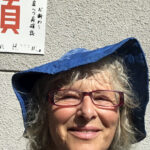 I am a painter and printmaker, living in Roslin. I also organise exhibitions at Riccio Gallery. I dropped out of art school, had children, studied architecture as a mature student. I lectured in architecture at the University of Liverpool, then moved to the Scottish Civil Service.
I stopped work early to be a carer and returned to making images. I like to work alongside others, learning from many tutors in Edinburgh and from fellow students. I've been enjoying plein air painting this year with a troupe of people who met at courses run by Ginny Elston.
I have worked at a small scale in oil paint on linen-covered board, with a very restricted palette of colours, but quite large brushes. These constraints are liberating – like the comfort of a school uniform, you don't have to make too many choices!
Several paintings are pairs – one done in the morning, the other in the afternoon – often quite different. Even in the course of a day I'm developing a more selective, intuitive approach that better describes the world as I see and feel it than more detailed, literal depictions.