Kamil Budzyński – Sarah Curtis – Javier Ventura – Nancy Bryce – Brodie Thomson – Ulla Hipkin – Linda Sheridan – Jackie McDonald – Michele Catto – Jacqueline Keith – Germano Ovani – Sarah Keer-Keer – Alastair Carmichael
plus work donated to raise funds for our favourite charity MYPAS by artists Kirstie Hustler and Germano Ovani
KAMIL BUDZYŃSKI
After a long and exciting day of working in IT, I like to experience the analogue side of the world. There is nothing more rewarding than capturing it with a completely hand-made camera put together on a kitchen table!
Over the past 20 years of photographing with increasingly advanced and capable digital cameras, I never felt really excited about them the same way I feel when holding an old 35mm rangefinder loaded with a roll of Kodak.
While learning about alternative photographic processes I came across SKamiolargraphy – a way of using a pinhole camera and photographic paper without chemical processing to catch the sun's daily journey across the sky, with exposure times ranging from hours to several years. It is the most basic form of photography, and yet those simple boxes create dreamy, otherworldly images when done right.
From sanding hand-drilled holes under a microscope, through creative ways of hiding the cameras from curious eyes, to the final image – the entire process feels immersive and rewarding. It allows me to capture the passage of time beyond the short glimpses of the world we experience with our own senses.
As well as more familiar places, please enjoy a small preview of a series taken in Ukraine that I have been working on since 2018. One of my passions is documenting the Chernobyl Exclusion Zone, a 30-km wide site of the largest nuclear disaster in history. Solargraphy feels like the perfect technique for capturing this desolated, crumbling and inhabitable world.
When looking at my photographs, think of a tree perceiving the passage of time, living in the same spot for eternity.
SARAH CURTIS
Sarah Curtis is an East Lothian based artist painting in Acrylic, mixed media and oils.
Sarah takes her inspiration from Aerial photographs of East Lothian's landscapes taken whilst piloting a Microlight; giving her landscapes a unique perspective.
We're welcoming Sarah back to Riccio Gallery with the Winter show opening 3 November.
All images © Sarah Curtis
JAVIER VENTURA
Ventura is a painter and illustrator from the coast of the south of Andalusia in Spain. He now lives and works in Portobello, Edinburgh. Javier studied at the School of Fine Arts of the University of Seville, specialising in graphic design. In 2001 he completed a Masters in Info-graphics in Audiovisual Media. He exhibited regularly in Andalusia between 1987 and 2011 while continuing to teach.
Javier's painting is closely related to the sea and light. It is a symbolist, surrealist and literary interpretation, with an enigmatic atmosphere that tells stories related to landscape and architecture evoking memories.
We're welcoming Javier back to Riccio Gallery with the Winter show opening 3 November.
All images © Javier Ventura
NANCY BRYCE
Growing up on a farm in Perthshire I loved to draw and paint from an early age. After graduating from Edinburgh College of Art in the 70s I became a freelance illustrator, working mainly for Edinburgh publishers Oliver and Boyd and Holmes McDougall for more than a decade.
Eventually life led me to pursue work in community and adult learning. It was during this time I started to rediscover my personal art, mainly in watercolour to begin with and moving on to mixed media and larger scale acrylic work.
After being mostly figurative early on, my work has become increasingly abstract and subjective but still with origins in the natural world.
Recently I have been experimenting with different techniques and a more spontaneous approach to explore nature's implacable forces.
All images © Nancy Bryce
BRODIE THOMSON
Brodie Thomson graduated this year from Edinburgh College of Art and this is her first gallery show.
"Whilst isolating in Summer 2021, I created an online journey back in time by pairing pre-2000s music with photographs I had taken, and edited, to achieve a superficial or aged aesthetic. I posted these on a new Instagram page called bav_aesthetic.
These acrylic paintings surround the themes of nostalgia, escapism, and aesthetic, and each painting in the series is painted on 12 x 12" MDF, replicating the size of Vinyl record sleeves.
The paintings are intended to be viewed whilst listening to music released between 1960s and 2000, and each individual painting is named after the corresponding song I have paired it with on bav_aesthetic.
The complete collection of paintings is called The Idea of Ideal in relation to the themes of nostalgia, escapism and aesthetic, present in my work. Nostalgia is often a fond reminiscence of the past, escapism is a portrayal of a place someone might like to go, and aesthetic is I have tried to find beauty in. I have tried to capture this idea of idealism using acrylic paint to capture the saturated colours from my bav_aesthetic images.
I enjoy painting in a variety of styles, with some appearing realistic and others more abstract. This reflects the various decades and genres associated with each individual work in The Idea of Ideal collection.
The musical aspect of The Idea of Ideal allows the viewer to imagine a time and place within the paintings, creating a more immersive experience. Each viewer may also bring with them their own associations with the music I have selected, allowing a more personal nostalgia to emerge."
Brodie is showing 12 of this series of paintings at Riccio Gallery. All are available as giclée prints, in a range of sizes, which will be printed to order.
All images © Brodie Thomson
ULLA HIPKIN
I have been painting for over 50 yrs after attending art college course in Stockholm, Sweden. In the last 10 or so years I have had Damian Callan as a very inspiring tutor in portrait and landscape painting at WASPS, Edinburgh. From Jenny Jones I developed batik on silk paintings which I used in series of paintings of silver birches and abstract runes and viking finds. Founder member of Penicuik Community Arts Association more than 45 yrs ago and starting the Penicuik Ars Festival and the Penicuik Turner Prize.
All images © Ulla Hipkin
JACKIE McDONALD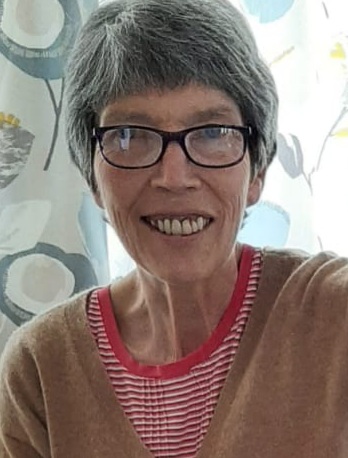 I have always been interested in pictures; the art of making a 2D plane have depth and the joy of working with colour. Since retiring from general practice 10 years ago I have had more time to devote to this hobby. I have found that there are numerous opportunities to meet with others and to learn together.
I have attended classes led by Damian Callan, Ginny Elson, Paul Mowat, Jemma Derbyshire and others. I also joined Penicuik Community Arts Association and found an active group of artists who were willing to support each other. I have participated in several exhibitions in the Arts Centre, both in the café with one or two others and as part of the Annual Open Exhibition. More recently I contributed several illustrations and the cover design for the popular poetry anthology, " Pentland Voices," produced by the Association.
Initially my interest was in the broad sweep of landscape. I particularly enjoyed Plein Air painting. With lockdown, opportunities for sketching outdoors were limited and I therefore began to paint more still life compositions. I was surprised to find how interesting and absorbing they can be.
All images © Jackie McDonald
LINDA SHERIDAN
I am a painter and printmaker, living in Roslin. I also organise exhibitions at Riccio Gallery. I dropped out of art school, had children, studied architecture as a mature student. I lectured in architecture at the University of Liverpool, then moved to the Scottish Civil Service.
I stopped work early to be a carer and returned to making images. I like to work alongside others, learning from many tutors in Edinburgh and from fellow students. I've been enjoying plein air painting this year with a troupe of like-minded painters, who met at courses run by Ginny Elston.
Many of the paintings in the Summer Collection have been hanging in my living room, favourites from the past few years, but there is also new work. One of the newest, 'Fisherrow Harbour, Musselborough' takes me full circle to early studies of harbour walls 'Harbour Mouth' and 'Harbour Trio'. 'Springing into Summer' is a very recent study from Inveresk Lodge Garden, where I spent many happy hours painting last summer and delight in finding something new with each visit.
Each image investigates some aspect of portraying the landscape and each has its own special memory.
All images © Linda Sheridan
MICHELE CATTO
I started out in the arts as an events florist, travelling all over to many wonderful buildings and castles, where I really got my love for old abandoned buildings.
I have been painting now for some time and I have a great passion for the elements around us and the wonders of mother nature and how we adapt when the things around us change from the seasons to all the abandoned structures decaying and changing around us.
I have learnt so many techniques from my art teacher Gillian Westland and I have been voted peoples choice artist 5 times now in Penicuik and I have been lucky enough to have sold some of my art round the world. My painting 'Change' has become my favourite to date. The movement in this painting really tells the story of how we adjust and thrive to keep growing.
All images © Michele Catto
JACQUELINE KEITH
I am an artist and sculptor who has travelled extensively and experienced many cultures; tradition and religions. This experience has moulded me and fed my creativity and inspiration.
I am a biologist by profession, but realised that science did not give me the whole picture. The great nature versus nurture debate. Anyway with relatives insisting of Artists; Authors; Actresses and healers I decided to pursue the art and not go any further with my doctorate. I was taught sculpture for a time by Tony McHale who has exhibited at the Scottish National Gallery. recently I have been taught oil painting techniques by the talented Gillian Westland.
My husband and I are keen photographers enabling me to capture the perfect scene and then to paint and sculpt for myself and others to enjoy.
My portfolio covers a range of subject matter from portraits to landscape/seascapes and sculpture.
All images © Jacqueline Keith
GERMANO OVANI
All images © Germano Ovani
SARAH KEER KEER
All images © Sarah Keer-Keer

ALASTAIR CARMICHAEL
All images © Alastair Carmichael

SUPPORTING MYPAS
Kirstie Hustler and Germano Ovani generously donated artwork for our favourite local charity MYPAS – Midlothian Young People's Advice Service.
MYPAS supports young people (aged 10 to 21) and their families to deal with issues affecting their health and wellbeing including: mental health, LGBT+ support and drug and alcohol use. They have offices in Dalkeith and Tranent. All their services are free, friendly and confidential.
Iimages © Kirstie Hustler and Germano Ovani
OTHER EXHIBITORS IN 2022
Sarah Keer-Keer – Germano Ovani – Alastair M Carmichael – Rona Maclean – Barbara Mackie
GERMANO OVANI
See Germano's page to read his full story and see more of his work.
Germano Ovani worked for over ten years as a freelance illustrator of books for children and young adults, producing over 30 collections with various publishing houses around the world. Alongside his career as an illustrator, he has been working for the last 15 years as a Teacher of Art & Design in both Italy and the UK.
In 2014 he began a painting journey inspired by black and white photographs and aimed at investigating the relationship between reality and fiction.
Riccio Gallery was delighted to present both Germano's original book illustrations and seven striking oil paintings from his series 'Family Lexicon.'
All images © Germano Ovani
SARAH KEER-KEER
See Sarah's page to read her full story and see more of her work.
Sarah painted members of the Edinburgh Diving Club when the club trained at Newbattle during the refurbishment of the Commonwealth Pool. Some of the young people depicted in her paintings are now distinguished divers, including James Heatly who medalled at the 2018 and 2022 Commonwealth Games.
"I've had a fascination with the beauty of board diving for some time. The shapes the divers hit at the apex of their dive are a delight to behold, though they last just a fraction of a second.
I hope I have captured in the paintings what it is like to focus and train for a great sport. All the concentration, precision and devotion that is necessary to create an ephemeral moment of perfection."
As well as the diving series, we are showing examples of her landscapes, paintings of fishermen, plus a couple of delightful portraits of pigs!
All images © Sarah Keer-Keer
BARBARA MACKIE
Born in Penicuik, Barbara later attended Dalkeith High School. She was awarded a 4-year Diploma from Edinburgh College of Art, a scholarship to Yale USA Summer School and a post graduate teaching Diploma. She taught art in schools in the Lothians and colleges in Aberdeenshire, as well as giving demonstrations to local arts groups. Later in local government she was a manager of community arts and teachers of expressive arts in primary schools in Aberdeenshire.
"As the observer, I am happy to be drawing in any medium and am comfortable painting in gouache, watercolour, acrylics and oils. Of many studies that I make, some develop into compositions, not simply observation, more the development of ideas that emerge. I classify my work as Drawings, Studies and Compositions.
In the last five years, I have been pleased to exhibit at Soutra Café by Pathhead, in Edinburgh's Central Library Art & Design section, at the Scottish Arts Club in Edinburgh, at Leith School of Art in Edinburgh, at the Union Gallery, in Edinburgh, at the Riccio Gallery in Dalkeith, at the Espacio Gallery, London and at West Dean College, West Sussex.
My life has centred around the arts and it is good if there is something that it is always present in your life and is a key focus. I have begun new work that relates to time spent abroad in relation to people and places but it is at an early stage "
All images © Barbara Mackie
RONA MacLEAN
I grew up on Loch Lomond side where my love of the natural world was fostered. Alter a career as a teacher, I took early retirement to concentrate on painting and printmaking. I have completed courses at Leith School of Art, Edinburgh College of Art, Edinburgh Printmakers and The Open College of the Arts.
I regularly sketch in and around Edinburgh both with a small group I organise and with Edinburgh Urban Sketchers. Members of our sketch group have ventured abroad to Venice, Lisbon and Verona and exhibited work inspired by our travels. We were unable to go abroad due to the pandemic, but spent a productive week sketching in Cromarty in September 2021.
I exhibit regularly in and around Edinburgh. My paintings and prints have been shown in several open exhibitions including the Royal Scottish Academy (RSA), the Society of Scottish Artists (SSA) and the Paisley Art Institute (PAI).
I have been a member of Edinburgh Printmakers for more almost twenty years and share a studio at Beaverhall Studios, Edinburgh with another artist and am a member of The Society of Scottish Artists and Visual Arts Scotland.
www.ronamaclean.co.uk
Facebook: Rona MacLean:ArtistPrintmaker
Instagram: @RonaMacLean
Email: rona.maclean@gmail.com
All images © Rona Maclean
ALASTAIR M CARMICHAEL
Riccio Gallery is presenting very affordable prints of Alastair's original paintings plus beautiful coasters depicting distilleries, together with greeting cards. Great gifts!
All images © Alastair M Carmichael