Jackie McDonald – Nancy Bryce – Rona Maclean – Linda Sheridan – Barbara Mackie –
JACKIE McDONALD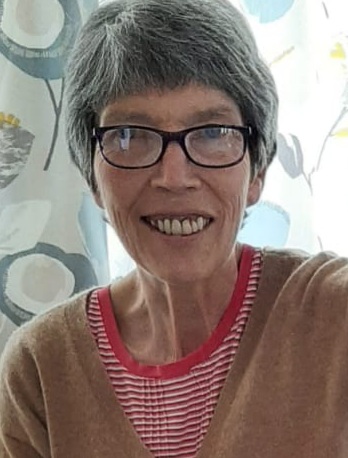 I have always been interested in pictures; the art of making a 2D plane have depth and the joy of working with colour.
Since retiring from general practice 10 years ago I have had more time to devote to this hobby. I have found that there are numerous opportunities to meet with others and to learn together.
I have attended classes led by Damian Callan, Ginny Elson, Paul Mowat, Jemma Derbyshire and others. I also joined Penicuik Community Arts Association and found an active group of artists who were willing to support each other. I have participated in several exhibitions in the Arts Centre, both in the café with one or two others and as part of the Annual Open Exhibition. More recently I contributed several illustrations and the cover design for the popular poetry anthology, " Pentland Voices," produced by the Association.
Initially my interest was in the broad sweep of landscape. I particularly enjoyed Plein Air painting. With lockdown, opportunities for sketching outdoors were limited and I therefore began to paint more still life compositions. I was surprised to find how interesting and absorbing they can be.
Lock down also gave me the time to experiment with some print-making techniques
In this exhibition I have examples of all these types of work.
I hope you enjoy them as much as I have enjoyed learning how to produce them.
All images © Jackie McDonald
NANCY BRYCE
Growing up up on a farm in Perthshire I loved to draw and paint from an early age. After graduating from Edinburgh College of Art in the 70s I became a freelance illustrator working mainly for educational publishers in Edinburgh for more than a decade.
Eventually my interests led me to pursue work in community and adult learning. It was during this time I started to rediscover my personal art, mainly in watercolour to begin with and moving on to larger scale acrylic work and mixed media.
After being mostly figurative early on, my work has become more abstract, but still with origins in the natural world; frequently inspired by reflections in still and moving water and patterns in leaves for example. I aim for my work to evoke a 'moment in time' without necessarily being static.
All images © Nancy Bryce
RONA MacLEAN
I grew up on Loch Lomond side where my love of the natural world was fostered. Alter a career as a teacher, I took early retirement to concentrate on painting and printmaking. I have completed courses at Leith School of Art, Edinburgh College of Art, Edinburgh Printmakers and The Open College of the Arts.
I regularly sketch in and around Edinburgh both with a small group I organise and with Edinburgh Urban Sketchers. Members of our sketch group have ventured abroad to Venice, Lisbon and Verona and exhibited work inspired by our travels. We were unable to go abroad due to the pandemic, but spent a productive week sketching in Cromarty in September 2021.
I exhibit regularly in and around Edinburgh. My paintings and prints have been shown in several open exhibitions including the Royal Scottish Academy (RSA), the Society of Scottish Artists (SSA) and the Paisley Art Institute (PAI).
I have been a member of Edinburgh Printmakers for more almost twenty years and share a studio at Beaverhall Studios, Edinburgh with another artist and am a member of The Society of Scottish Artists and Visual Arts Scotland.
www.ronamaclean.co.uk
Facebook: Rona MacLean:ArtistPrintmaker
Instagram: @RonaMacLean
Email: rona.maclean@gmail.com
All images © Rona Maclean
LINDA SHERIDAN
I am a painter and printmaker, living in Roslin. I dropped out of art school, had children, studied architecture as a mature student. I lectured in architecture at the University of Liverpool, then managed buildings-related projects in the Scottish civil service. I took early retirement and returned to making images. I need courses to counter isolation and foster surprise, learning from many tutors in Edinburgh and from fellow students.
The woodland pictures were painted on hot sunny days in 2021 at Yellowcraigs, East Lothian. Intense days of looking, trying to translate a complex scene into space on the page.
The twilight paintings reflect my life in the Autumn 2020 lockdown. I felt safest going out for exercise in the evenings. I became intrigued by the quality of artificial lighting in twilight . This added a new dimension to my interest in the synthetic, slightly uncanny landscape of urban edges. The scene observed, the viewer sensed but unseen. Vestiges of nature against the evening sky. I was delighted that my painting ALL WEATHER PITCH, inspired by taking a young friend to footie training with Bonnyrigg Roses, was selected for the RSA Online exhibition.
The images of Japan are based on a visit pre-Covid when I learnt to make washi and wandered in sweltering weather around Shikoku island, Kobe and Kyoto. Each face recalls a place and an experience – a memorial statue, a man on a bus, an actor on a poster, monks at a Temple, people in the street… I was observing a truly different culture, and understood so little! The selfie above was taken at Ichi no Mine Shrine on Mount Inari – I still haven't learnt enough Japanese to translate the sign behind my head!
All images © Linda Sheridan
BARBARA MACKIE
Born in Penicuik, Barbara later attended Dalkeith High School. She was awarded a 4-year Diploma from Edinburgh College of Art, a scholarship to Yale USA Summer School and a post graduate teaching Diploma. She taught art in schools in the Lothians and colleges in Aberdeenshire, as well as giving demonstrations to local arts groups. Later in local government she was a manager of community arts and teachers of expressive arts in primary schools in Aberdeenshire.
"As the observer, I am happy to be drawing in any medium and am comfortable painting in gouache, watercolour, acrylics and oils. Of many studies that I make, some develop into compositions, not simply observation, more the development of ideas that emerge. I classify my work as Drawings, Studies and Compositions.
In the last five years, I have been pleased to exhibit at Soutra Café by Pathhead, in Edinburgh's Central Library Art & Design section, at the Scottish Arts Club in Edinburgh, at Leith School of Art in Edinburgh, at the Union Gallery, in Edinburgh, at the Riccio Gallery in Dalkeith, at the Espacio Gallery, London and at West Dean College, West Sussex.
My life has centred around the arts and it is good if there is something that it is always present in your life and is a key focus. I have begun new work that relates to time spent abroad in relation to people and places but it is at an early stage "
All images © Barbara Mackie